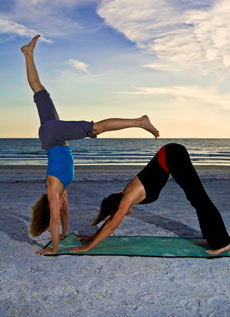 Carla and Pat, Mother and daughter, are experienced certified Yoga instructors that are able to adapt to the aspirations and capacities of each student. Students start their practice looking toward certain goals then learn ways to carry out the benefits of Yoga into all the tasks of everyday life.
Yoga teaches that every action has a positive and negative effect; therefore it is important to be attentive to neutralize the negative and enhance the positive. Counter-poses (Asana's) ensure that there are no tensions carried onto the next Asana. This translates into our everyday business. Carla and Pat are skilled teachers that understand the principle of dual effects and are able to determine healthy sequences of Asana's for healthy balance.
Our aim at practicing yoga is to change the quality of the mind which in turns influences positive action. Everything that happens in the external world influences our being, and what happens to us internally in turn has an influence on our relationship to the external world.
We will inspire you to challenge yourself yet will also provide modifications as needed for injury prevention. We provide increased kinesthetic awareness through supported adjustments. In addition, correct use of the wall, blocks, blankets, bolsters and straps assist in modifying challenging postures and assist in healing and restoring. You will learn proper technique, alignment and inspiration for the best results.