Beach Yoga Classes – Changes- Seasonal. Please call ahead.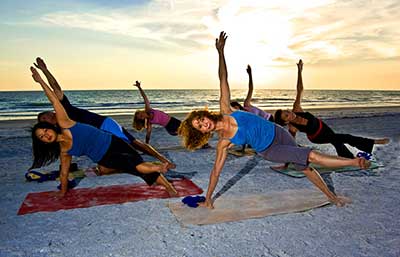 About
Enjoy Beach Yoga classes with the soft beach breezes off the Gulf of Mexico and the sound of waves lapping at the beach line on Indian Shores, Florida. This is a Vinyassa flow style class, offering modification options for beginners and challenging options for more experienced Yoga practitioners. This wonderful experience with the sounds of nature, gentle breezes and warmth of the sunshine is something you will never forget. These beach yoga classes take place just before sunset. The sky is beautiful and adds an ever changing natural setting to the class that makes each one of the beach yoga classes something special and unique. Benefits of Outdoor Yoga
What to Bring?
Bring a large blanket, bolster or extra beach towel for seated poses. Standing flow or Asanas are often done in the sand with the feel of soft sand on the feet. Yoga mat, water and sunscreen are recommended. Plan on taking extra time before or after class to go for a swim or walk the beach. There are also many great beach restaurants in Indian Shores, Indian Rocks Beach, Redington Beach, Maderia Beach and Clearwater.
Donations
All donations go to United Health Care. Donations are anywhere from $6-15 per class.
Locations
Indian Shores Beach
193rd & Gulf Indian Shores, FL
Parking located at
Indian Shores Town Hall
19221 Gulf Boulevard
Indian Shores, FL 33785
Note: In the case of inclement weather, please call (813) 917-2892