Hatha Yoga Classes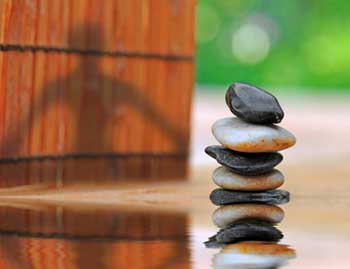 Hatha Yoga (meaning sun and moon yoga) is often translated as the union of opposites. Hatha yoga concentrates on the Asanas (postures) and pranayama (breath control) to energize the nadis (subtle body channels). The objective is to remove obstacles from attaining Pratyahara (sense-withdrawal), Dharana (concentration), Dyana (meditation), and Samadhi (balance). Carla's Hatha Yoga class aims to unify the meditative state within the physical asana. Through the practice of Hatha yoga, the body and mind become more flexible, stronger, and more balanced. Carla's classes aim to stay true to these intentions of Hatha Yoga. Not only will you leave her class feeling physically stronger, but your will and concentration will reach higher levels of power!
 Gentle Yoga Classes
The Gentle class includes asanas (postures), pranayama (breath work), and meditation in combinations which create a peaceful yoga practice. The class focuses on stress relief, relaxation , improved flexibility, and full body strengthening. Gentle yoga is open to and recommended for all levels. The gentle pace is great for beginner, intermediate, and advanced students who wish to experience the deeper spaces of awareness within all areas of the Hatha yoga practice. Students will gain self-empowerment, a powerful understanding of the philosophies of yoga, and will leave feeling revitalized!
Yoga For Athletes
Designed for sports practitioners and athletes to balance strength and flexibility. This class emphasizes the quality and benefits of the sequence using tools and techniques to increase core and abdominal strength, sharpen physical coordination and deepen mental focus. You will quiet the thinking mind by coordinating breath with movement flow and music.
Yoga Fusion – Vinyasa Beach Yoga!
(Vinyasa, Iyengar and Ashtanga combined) OFFERED ON THE BEACH.  This class combines classical with contemporary yoga styles for a blend of the highest qualities of each, including dynamic movement with stationary wisdom. This class fuses original waves of movement and smooth transitions between Asana's coordinated with rhythmic breath. You will experience a therapeutic, yet creative, energizing patterns that strengthen and balance the physical body while calming the mind and spirit. This class uses the principles of alignment & technique with either modifications or challenge options offered so that many levels benefit. Benefits include improved posture, balance and agility, increased strength and flexibility and injury prevention. Modifications or challenge options are offered so that many levels benefit.
Yoga Dance
Intermediate to advanced class that combines rhythmic and coordinated movement to music incorporating warm-ups specifically found from modern dance, Pilates and Yoga with energetic flow. Loads of fun! Improves endurance, strength, core, balance, posture, coordination and flexibility.